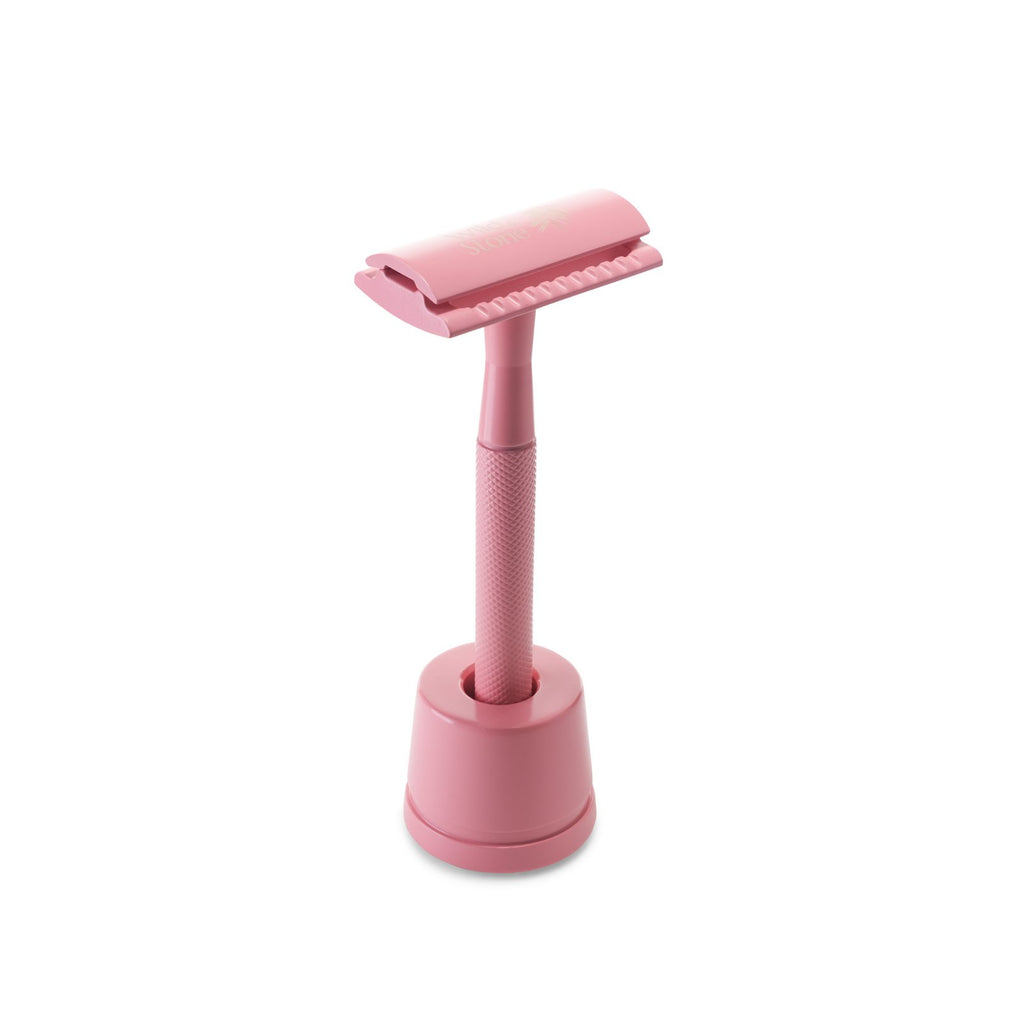 £25.50
£0.00
Reusable Safety Razor & Razor Stand Bundle
Wild & Stone's reusable stainless steel razor has been created for women or men who are looking for a smooth and comfortable shaving experience but are also looking to be kind to our planet.
Figures vary, but billions of disposable plastic razors and cartridges are thrown away each year. They are not recyclable due to their mixed materials so they sit in a landfill, pollute our earth, or disrupt our waterways, taking around 1,000 years to decompose. The answer to this waste is the traditional safety razor, the best alternative to plastic razors for men and women alike.
The Razor
Our metal safety razors are cleverly designed to be used over the face and the body, with a grooved edge made for a precision wet shave that's not only clean but gentle on the skin. The long handle and textured grip allow for a safe shave in those hard to reach areas.
Unlike their plastic counterparts, stainless steel safety razors are incredibly easy to recycle, just remove the razor, wipe off the residue, and place it into the metal recycling alongside your food cans.
Safety razors are much more affordable long-term when compared to a single-use razor as you only have to replace the blade, which costs pennies.
The Stand
This cleverly designed razor stand will help you lengthen the life of your razor by preventing water damage. Plus, this stand helps to keep the sharp blade out of reach from prying hands.
More Info
Directions for use
Before first use, unscrew the handle of the razor from the head and insert the blade, ensuring not to touch the sharp ends, then securely reattach the head. Ensure the head is in the correct position with ridges facing upwards.
Moisten the razor and the skin, applying pressure shaving gel or oil. Hold the razor at a 45-degree angle to the skin and gently glide the razor over your skin, shaving only in straight lines. Avoid adding pressure to the razor.
This razor is unisex and can be used on all areas of the body, including the face, underarms and bikini areas.
Product Details
Pack includes 1 razor, 1 stand, 5 blades, and a cotton bag.
Made from stainless steel
Recyclable eco-friendly card packaging
Plastic-free & Sustainable
Vegan & Cruelty-Free
Care Instructions
To ensure the longevity of your razor, rinse and wipe down after use and avoid exposure to long stints of moisture.
Replace the blade after it becomes dull.
Place the razor head down into the cotton carry bag when storing.
Cautions
Keep the razor and blade out of reach of children and babies. Recycle used blades responsibly. Store in a dry area or in the provided cotton bag. Always act with care.